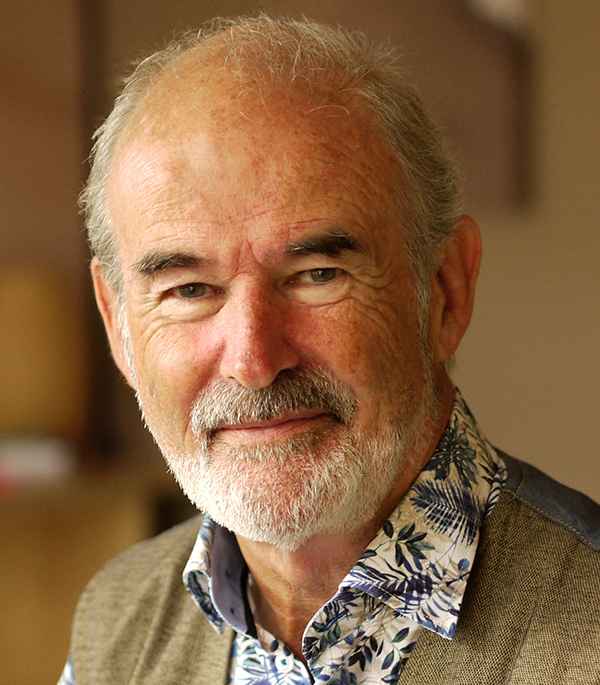 Simon has been in regular clinical practice in Exeter since 1977, providing individualised natural health care and herbal medicine prescriptions to thousands of patients with a very wide range of conditions.
He has also been active nationally and internationally. He is a Cambridge medical sciences graduate who was at the forefront of the development of complementary medicine, co-creating the term in a small meeting in London in 1980, and in 1983 became both the first Chair of the Council for Complementary and Alternative Medicine (launched in Parliament by former Prime Minister Alec Douglas-Home), and founder trustee of the Research Council for Complementary Medicine. In 1985 he worked with Sir James Watt, President of the Royal Society of Medicine, to organise their ground-breaking Colloquia on Complementary Medicine, and in 1987 co-founded the Centre for Complementary Health Studies at the University of Exeter, the first ever such university centre. In 1996 the Prince of Wales asked Simon to co-chair the Regulatory Committee of his new Foundation for Integrated Health and in 1999-2000 he was Special Advisor to the House of Lords Select Committee report on Complementary and Alternative Medicine, which was quickly accepted by the Government (see the account of their Lordships' visit to Simon's practice here). In 2003 Simon co-ordinated the first integrated medicine course at a UK medical school, at the Peninsula School of Medicine (now Exeter Medical School). He has published in many peer-reviewed scientific journals, including double-blind clinical trials, and has supervised ten successful doctoral theses.
In the herbal field Simon has led the main organizations in the UK (the British Herbal Medicine Association, the College of Practitioners of Phytotherapy, and National Institute of Medical Herbalists) and served on the Government's Herbal Medicine Advisory Committee. Between 1992-95 he led a major European Commission project on herbal medicine, involving over 20 centres across Europe, and since 1997 he has been Secretary of ESCOP, the lead herbal scientific network in Europe, that produces defining monographs on herbal medicines, initially for the European Medicines Agency. He has also written seminal herbal medicine textbooks, notably with Kerry Bone the award-winning Principles and Practice of Phytotherapy and the Essential Book of Herbal Safety. In 2001 he directed the first Masters degree programme in herbal medicine in the USA. He now works with Kerry in producing online webinars and other content for healhcare practitioners at the Mills & Bone Academy.
Over many years Simon supported his academic and community activities as a consultant to the leading international names in the consumer health industry, focusing particularly on technical assessments, and product and process development among herbal manufacturers around the world.
From 2008-11 Simon co-ordinated a major Department of Health project 'Integrated Self Care in Family Practice' with Dr Michael Dixon, based at his NHS practice in Cullompton Devon, and including the Bromley by Bow Centre in Tower Hamlets, Peninsula School of Medicine and Westminster University, to pioneer social prescription and create a resource for self care, now relaunched as Our Health Directory.
He is Self Care lead at the College of Medicine, has been a Fellow of the Royal Society of Medicine from 2006, and has been listed in Who's Who since 2013.
In September 2016 he joined Pukka Herbs as Herbal Strategist, and with their strong support works further to develop natural self care approaches to health and wellbeing.